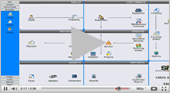 Service Management Enterprise (SME) is a powerful service management software program designed especially for service companies. It will provide tools to help you manage your customers, staff schedules, maintenance, inventory and more. For more information download the SME Product Overview 
We also offer SME Complete hosted in the Cloud. For more information Click HERE

Generate More Revenue

Increase Productivity

Streamline Tracking and Management

Make Your Service Company Profitable and Efficient
Click any of the links below to learn more information about the powerful modules of SME.
Fill out the demo request form and get your business moving
"After implementing the system our operations and profits improved after only a few months. As a business owner, I can tell you that the Return on Investment for the SME software has already been multiple times the cost of the system – and we haven't even been using it for a year."
"Without SME, there is no way we could manage this volume of work orders. Using SME with QuickBooks allows us to do tasks 4 times faster than doing them manually."
"SME is an invaluable operational tool that increases productivity in every department. Our revenue has increased 20% since implementing SME."
Here's are a few things which make SME an Outstanding Service Industry Software:
Inventory Setup

Maintaining Inventory Items in both SME & QuickBooks, or in SME Only
Inventory

In the Inventory section of the Inventory module you can setup and access all inventory items. View stock for the item, move stock between warehouses, view item purchase history, and setup ordering information for the item. You can also initiate a PO from the inventory item.
Material Allocation

Track and allocate your material to your work orders.
Packages

Packages have a few different functions. They can be used from a marketing perspective for a bundle of items that provide a discount when purchased together. They can be used to make it easier for ordering since all items are grouped together requires the selection of just one package rather than many items. A package can be used as a finished goods item that is assembled from multiple inventory and service items. Packages are equivalent to Inventory Groups in QuickBooks.
Services

Service items can be used for a variety of purposes such as fixed rate type services, services to be performed by subcontractors, or other service type items such as freight & shipping.
Vendors

A vendor supplies goods and services to your company. In SME, vendors include both vendors who supply material to your company and subcontractors who supply services to your company.Vendors are used for purchase orders, RMA returns, and as defaults for inventory items. The vendor module also tracks past Products Purchased and Purchase Orders ordered from the vendor.
Purchase Orders

Purchase Orders (PO) are used for all adding of inventory items (rather than adding stock) for proper inventory control.
Warehouses

If you are tracking inventory items in SME, it is likely that you have more than one warehouse you want to track stock in such as your technicians vehicles. SME allows you to create multiple warehouses.
1. Default Warehouse (main warehouse) you keep and receive stock into.
2. Technician warehouses to track stock on your techs trucks/ vans
3. Customer Warehouses to hold stock that can only be allocated on orders for a specific customer.
Returns

RMA (Return Material Authorization) is used to return items either from a customer equipment list to your stock OR from your stock to the vendor. If parts need to move from customer to vendor, this requires two RMA transactions, one from customer to stock and another one from stock to vendor. SME does not always handle the accounting side of RMA's so you need to manage the credits to customer or from vendors.
Transfers

SME Inventory transfer allows the transfer of multiple items from a source warehouse to a destination warehouse. The inventory transfer will keep a record of the inventory transfers.
Inventory Quantity Reconciliation

Usually at year end a physical inventory is performed and then reconciled with SME. Any adjustments required should be understood, however SME provides an inventory reconcile tool.