SMO Customer
Jump to navigation
Jump to search
Back to SMO main page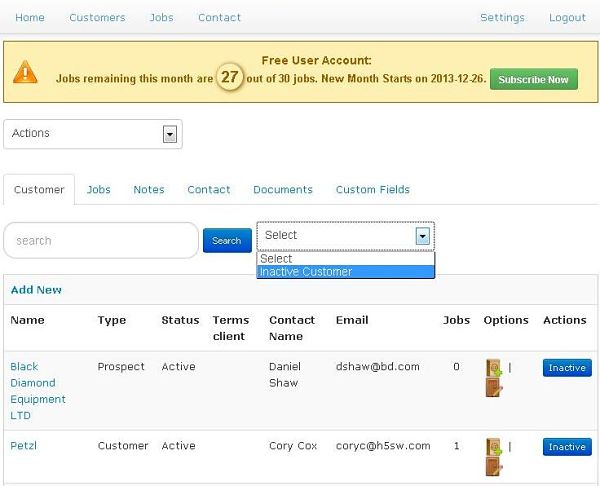 Customers and Job Sites
[
edit
]
SME handles both customers and job site or sub customers. A customer may have unlimited Job Site locations.
List Customers
[
edit
]
To list your customers, select Customers link at the top. Select a customer by clicking the name or click the Edit button on the right Add a job by clicking the add job icon on the right. Search any part of the customer name, type, contact or email in the search box.
Edit Customer
[
edit
]
To Edit a customer click the customer record and change any information, then select save.
New Customer
[
edit
]
To create a new customer select Actions>New Customer
Actions
[
edit
]
Add Customer
[
edit
]
Adds a customer to the customer list, with the options to supply the following information:
Type of customer

prospect
customer
job site
Company
Address
Account number
Phone Number
Website
Type of business

government, residential, etc as customized
Add Job Site
[
edit
]
Enables the user to add multiple job sites listed under a single parent company. For example, a fire safety inspection company that inspects several different buildings can create a job site for each building they maintain.
Add Job
[
edit
]
To add a work order or job for a customer or job site.
Add Note
[
edit
]
To add a note for a customer.
Add Contact
[
edit
]
To add a contact for the customer or job site
Add Document
[
edit
]
To upload a document for the customer.
Customer Information
[
edit
]
The following details can be viewed for the customer:
Shows a history of all jobs for that customer
SMO Notes
[
edit
]
Unlimited notes can be recorded for the customer.
Notes are automatically recorded with who took the note and the date and time of the note. Steps:
Select the Note Type:

Site Notes are to track specific information about the site such as how the techs access.
Service Request: For recording service request notes, usually for jobs.
Service Performed: For techs to record the work performed and also to show the work performed for invoicing purposes.
Private: These notes are only for members of your company and not for customers.
System Notes: System generated notes.

Enter the Note text
Select Add Note
SMO Contacts
[
edit
]
Each customer can have unlimited contact records that can each be linked to specific job sites. Contact info data fields are:
Name
Role
Email
Phone
Twitter
SMO Documents
[
edit
]
Documents can be uploaded for the customer record such as pictures, site plans, pdf files, word documents, and excel files.
SMO Custom Fields
[
edit
]
Custom fields can be created to track unique information for your business.
SMO Job Site
[
edit
]
Each customer may have unlimited Job Site locations.