Invoicing an Order
Jump to navigation
Jump to search
o find the orders that are ready to be invoiced, you will need to search for all closed orders.
To find all closed orders:
Select the Service or Install module.
Click Search, select Search Closed Orders. The Search Closed Orders window will open.
Double click on an order to open.
You can then use the same tools for searching closed orders as you can with searching open orders. (e.g. adding columns, adding filters) Click Find Orders for instructions.
To create an invoice for an order:
Quick Invoice
For orders with the invoice type of Full-Itemized or Combined, you can click Quick Invoice and an invoice is generated and the order status moves to "invoiced". To see the invoice, go to Invoicing in the Receivables module.


Actions > Generate Invoice
For any invoice type you can click Actions and select Generate Invoice. To see the invoice, go to Invoicing in the Receivables module.
**NOTE** If you are syncing SME with QuickBooks, the invoice will also be in QuickBooks after your next sync.
Types of invoices you can generate
Before you generate the invoice, you can select the invoice type.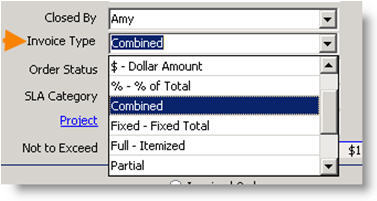 $- Dollar Amount - Will allow conversion to multiple orders based on dollar amounts. It will keep track of how much has been converted towards the total.
% - % of Total - Convert based on percentage of the order.
Combined - This converts the entire order to a combined invoice. This is a good option for good tracking because all the details are in the order rather than replicated on the invoice.
Fixed – Fixed Total - The totals will be fixed and will NOT use the itemized details.
Full – Itemized - Converting an order to an Itemized Invoice will duplicate all the items on the invoice for further editing. This will give more flexibility in changing the invoice after it's created.
Partial - This allows selection of individual items for the order or invoice. This is good for converting a proposal to multiple install orders that will be a multiple phase project.

**NOTE** For more information on invoicing, refer to the Receivables guide.